BEEF
PORK
LAMB
POULTRY
GAME
SAUSAGES


IT'S HAGGIS TIME!
Don't forget to order your haggis for Burns Night on the 25th January - Our own fresh made haggis regularly come out tops in many local blind tastings.


Sorry there are no Special Offers at this time.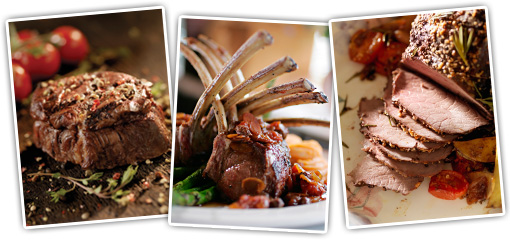 Our animals are sourced from local selected farms. We have known the farmers for many years and during that time have built up formidable partnerships with them.



We guarantee you will taste the difference eating our meat.


Low food miles are thus ensured and that our animals are stress free. This is vitally important as it affects the store of glycogen in the muscles which is converted to lactic acid following slaughter, altering the pH value of the meat and the conditioning (development of flavour and tenderness) and keeping properties.

Our small scale artisan production unit further guarantees 'stress- free' through the individual respect of our raw materials at every stage of the process.

As a result you can be confident that the meat you purchase from us is painstakingly reared and handled at all stages to the high standards we demand, giving you the best possible final product.

We guarantee you will taste the difference eating our meat - three generations of our family's experience - Enjoy!