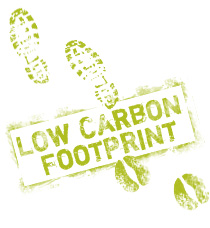 Low Carbon Footprint

Traditionally communities had smaller farms, markets and local butchers all in close proximity. There were very good reasons for this and benefits from this included stress free transportation and containment of problems such as foot and mouth etc. These days animals generally travel the country during their lifetime, something that does not really suit them well.

Our animals are sourced, from within a few miles, from very local farm. This gives us consistently stress free meat, full traceability, dignity for the animals and benefits to our local community. There are of course benefits for the environment too through less pollution and less use of scarce resources. It all makes sense. Our business model doesn't entertain transporting our products from one end of the country/world to the other for preparation/packing and then back again!

Meat sold in our shops is from selected local farms; which meet our high standards of welfare, feeding and environment. They come direct to our own abattoir, where it is slaughtered by our highly skilled and experienced team. With welfare of the animals of highest importance, to achieve a finished product to meet the expectations of our most discerning customers, by tried and tested traditional methods.

Robert Law

Robert Law is the farmer that supplies us with lambs; Robert was Farmer of the year in 2006 which was quite an achievement for a first generation farmer. Robert lives at Thrift Farm Royston, but many of the lambs graze in fields around Chrishall Grange and sometimes can be seen on Royston Heath.

More Info »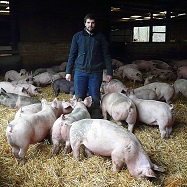 D Northern and Sons

James Northern of Manor Farm, Bygrave produces the pigs that we sell, which are a cross between Hampshire, Landrace & Large White pigs, on the 1000 acre mixed farm that grows the wheat and barley that is used in the pigs feed which is mixed on farm to ensure a high level of quality, the manure produced is then spread back on the fields to complete the cycle. The farm is registered with the Red Tractor Farm Assurance Pig Standard.

More Info »

Phillip Rogers

All our beef comes from single suckled calves specially bred from traditional meat production breeds, they spend the first 9 months on grass with their mothers before being weaned, Phillip Rogers then finishes them at Wire Farm, Chrishall in yards feeding them barley and other concentrates to produce succulent, tender tasting beef. Phillip is FABBL accredited, which is a guarantee he exceeds certain standards.

More Info »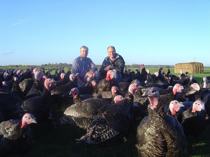 Appledore Turkeys

Andrew and Clive Wreathall are Appledore turkeys. They farm Priory farm, Appledore, Ashford, Kent and the family have been producing top quality turkeys for the Christmas period since their grandfathers time. They start with the best slow growing strains and produce them ethically with animal welfare a priority. See Newspaper Article on Appledore We are very confident you will not buy a better bird than one of these.

More Info »